[slider id="bordello3″]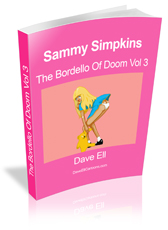 In this volume Sammy is escorted upstairs by her first 'client' who happens to be Mom's best friend and Sammy's ex babysitter.
The client wants Sammy dressed in a little girl dress and pays the full $5 fee so that she can get up to all sorts with the minx.
Click on the 'Buy Now' button below to see what happens next.
AFTER completing the PayPal transaction CLICK on
Return to Dave Ell Cartoons
.