[slider id="bordello-6″]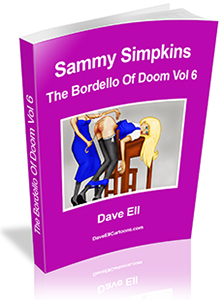 Following on from The Bordello Of Doom Volume 5 Sammy now has to prepare to meet her next 'client' who just happens to be Sharon, her friend and co-worker.
Sharon wants Sammy dressed as a St. Trinian's schoolgirl so that she can teach her some school discipline.
This latest edition of The Bordello Of Doom contains 10 comic strip stories with 72 illustrations.
AFTER completing the PayPal transaction CLICK on
Return to Dave Ell Cartoons
.