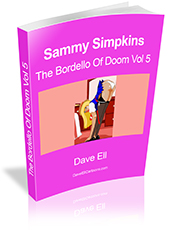 In this volume of The Bordello of Doom the action is hotting up between Sammy and her 'client', her former baby sitter.
The baby sitter soon discovers that Sammy is 'gifted' in the most pleasurable way as her investment in Sammy climaxes.
Not only does book five of the Bordello series contain 60 graphics 10 pages of cartoons Dave has added four pages of 'Sarah Gets Spanked' as a bonus.
Click on the 'Buy Now' button below to find out how Sammy is gifted!
AFTER completing the PayPal transaction CLICK on
Return to Dave Ell Cartoons
.