[slider id="bordello-4″]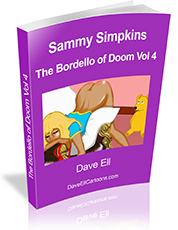 In this volume the spanking heats up for our little vixen.
Sammy's first 'client', her ex babysitter, has given Sammy a good spanking but now wants something more 'intimate'. She sends Sammy to get her strap on, but who will get the most satisfaction?
The fourth book in the Sammy Simpkins The Bordello of Doom series contains 60 graphics on ten pages of cartoons.
Click on the 'Buy Now' button below to find out who gets satisfied!
AFTER completing the PayPal transaction CLICK on
Return to Dave Ell Cartoons
.